Our purpose designed and built Airport Semi-Automatic Weather Observation Systems are presently installed at over 50 UK airports. This includes:
large airports like Heathrow, Gatwick and Stansted
medium sized airports like Edinburgh, Aberdeen and Belfast
small airports like Oxford and Swansea
airfields, helipads and air support units like Redhill and Yorkshire Air Ambulance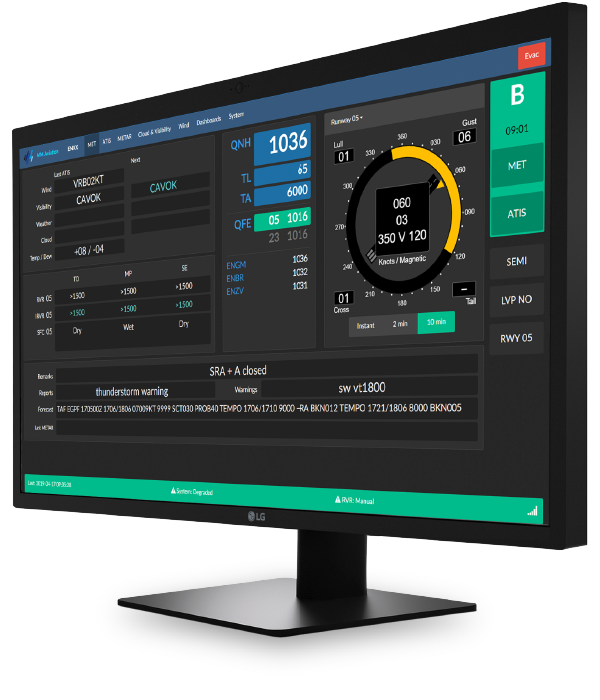 Whatever the size of the airport we have a bespoke MET solution and the UK's leading airport MET system engineering team in-house to support your needs. Our experts are ready to help you analyse your needs and the potential of your existing system before proposing a solution for an upgrade or a complete new system. We focus on providing a cost-effective solution that minimises your investment and long term cost for operating a reliable system. 
Providing low cost, high quality systems to these locations is our key focus. 
We normally supply: 
Airfield
Small Airport
Medium Airport
Large Airport
Airfield
Overview
Services: MET
Sensors: 1 x Wind, 1 x THP
---
Providing low cost, high quality systems to these locations is our key focus. We normally supply: 
One wind sensor of your choice connected to our METBox-Wind, Aviation Wind Display
A barometer and air-temperature/-humidity sensor connected to our METBox-Air, Aviation Barometer and Dew Point Display
Small Airport
Medium Airport
Large Airport
Airport

Services

System

Sensors

MET

METAR

ATIS

OPMET

Cold STB

Hot STB

Wind

THP

Cloud

Visib

Airfield

1

1

Small

1

1

Medium

2

2

1

1

Large

2

2

2

2